Addressing Energy Equity in Affordable Housing
TVA's Community Power Challenge has helped renters and property owners access energy efficiency.
The mission
When it comes to utility energy programs, affordable rental housing has typically been an underserved market. Most renters can't make energy efficiency improvements to their homes without landlord consent. On the flip side, affordable housing properties usually operate on limited budgets and experience high levels of staff and resident turnover, making it difficult to prioritize energy efficiency improvements at scale.
As part of TVA's mission to promote greater energy equity, these challenges presented a great opportunity for energy savings. Milepost shared the concept of a multifamily strategic energy management program with TVA and worked together to develop and implement a human-centered program that would provide both renters and property owners/managers with access to energy efficiency resources.
In partnership with TVA and its local power companies, we engaged renters through interactive in-person workshops (including promotional items!), monthly tip posters, and newsletters.
With differences in how residents across the properties paid for electricity — some pay the utility directly based on their use, while others pay the property management a flat monthly rate as part of their rent — we tailored the messaging to focus on either energy savings or comfort depending on participant motivations.
For property managers, we developed resource materials on weatherization and building science, and led seasonal, cohort-style Operations and Maintenance (O&M) workshops with staff to optimize overall building performance.
We developed and implemented the pilots projects by identifying and recruiting participating properties; creating materials and messaging for the workshops, monthly tip posters, newsletters, and manuals; and facilitated and trained residents and staff through the in-person workshops.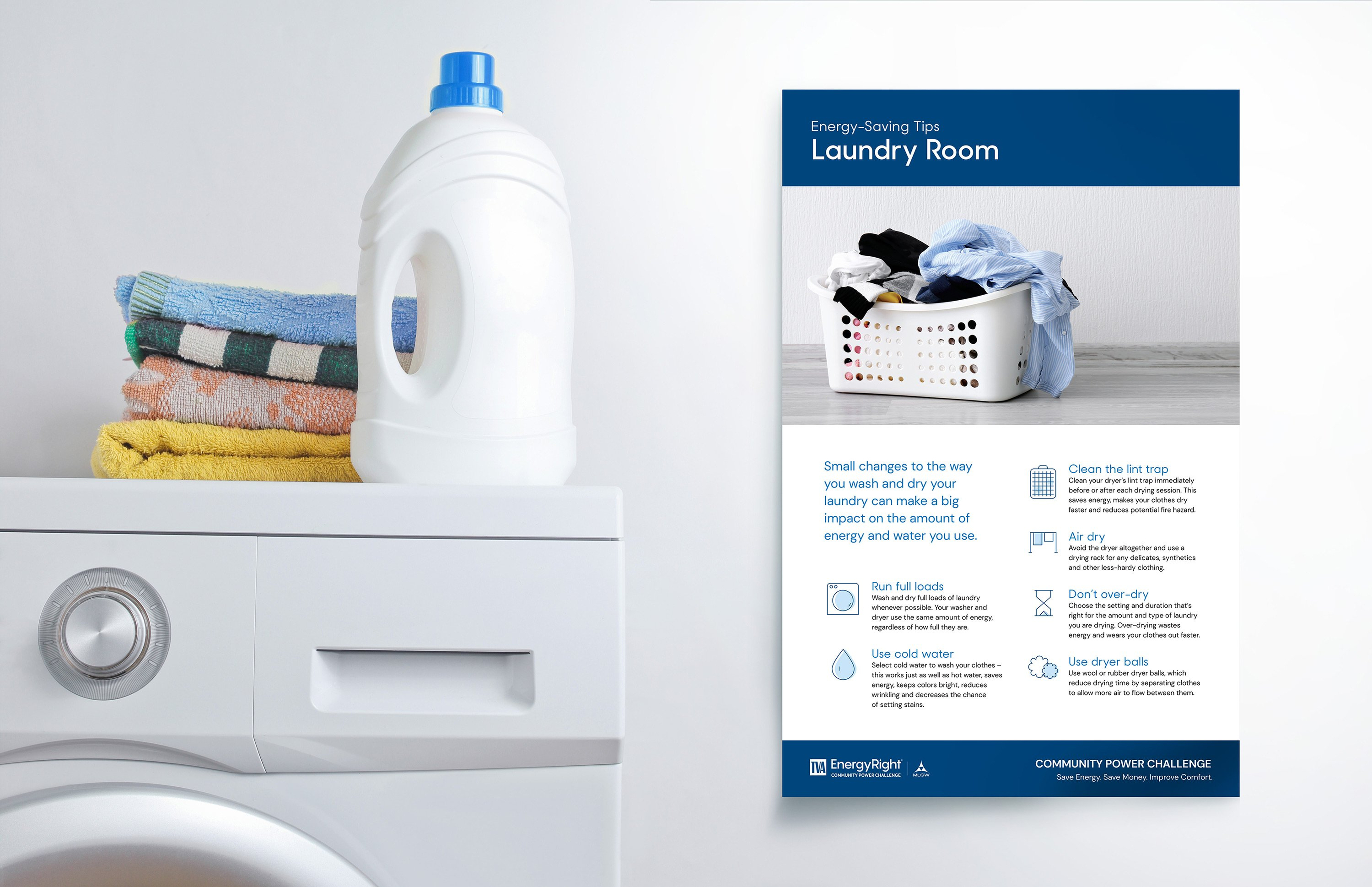 What we did
Data collection

Data analysis

Copy development

Market research

Engagement strategy

Messaging framework
Graphic design

Video development

Event management

Project management

Stakeholder identification and outreach

Coordinated efforts with internal stakeholders
The results
Between 2018 and 2021, Milepost supported TVA and local power company partners with design, development, and launch of two, one-year pilots in Nashville and Memphis, and one train-the-trainer program for Knoxville. Across the two turnkey pilots, we engaged ten low-income, affordable housing properties, reaching over 1,250 households and serving more than 450 residents through in-person summer and winter workshops. Similarly, we reached almost 30 staff members in our O&M workshops. Resident workshops generated a net promoter score of 83 in Nashville and 100 in Memphis, with over a quarter of all participants reporting an increase in energy efficiency knowledge in both pilots. What's more, we found that residents who paid a flat monthly rate and weren't financially motivated to save energy, were just as interested in learning about saving energy as the renters that do pay for their electricity bill.
Across all five properties in Nashville, we helped TVA and its stakeholders achieve a 10% reduction in overall site energy use intensity. Results for energy savings in Memphis are currently being documented.
EXAMPLE ENGAGEMENT MATERIALS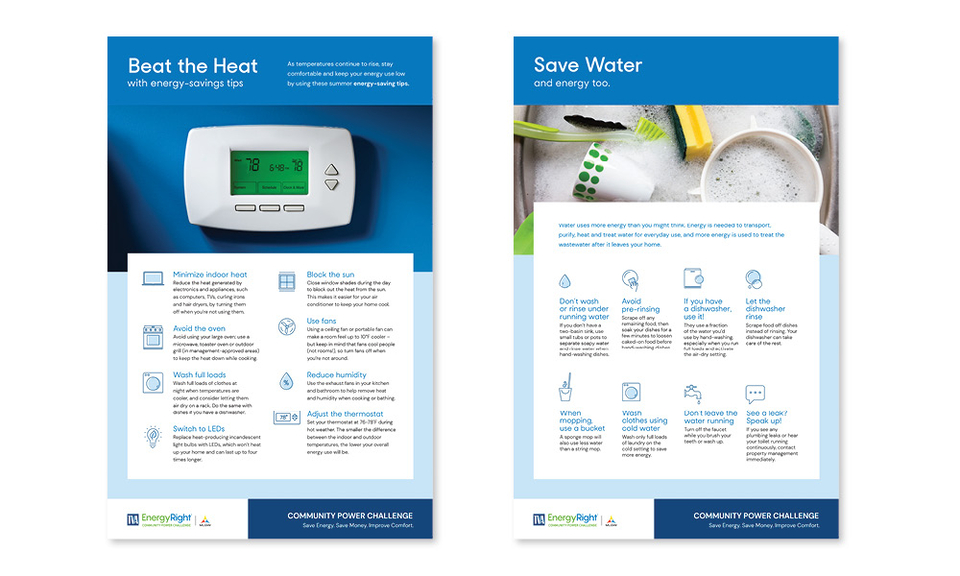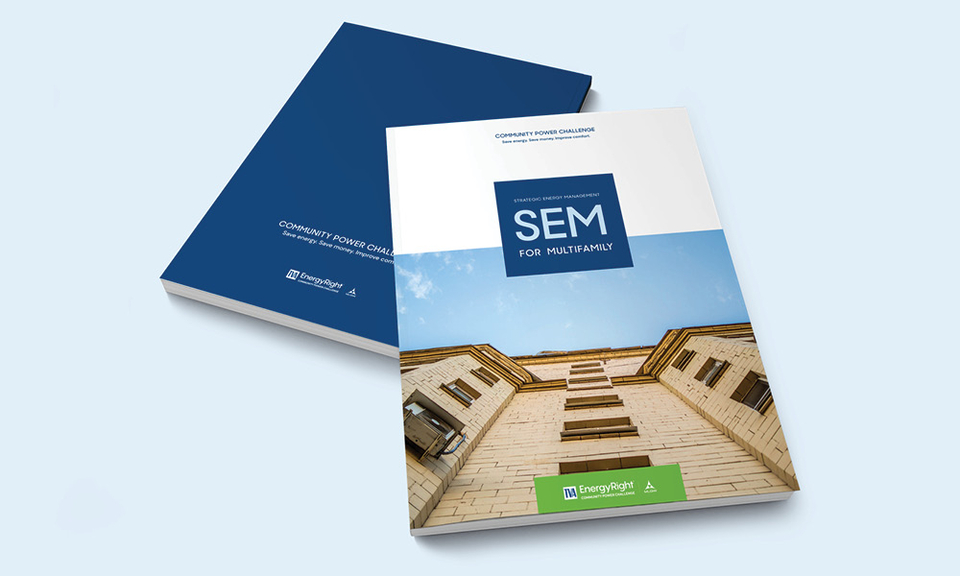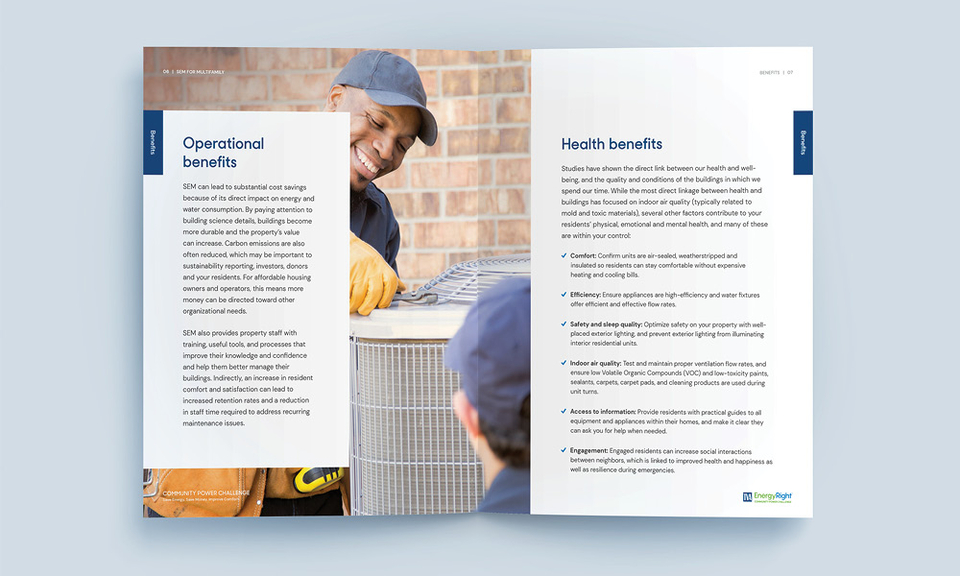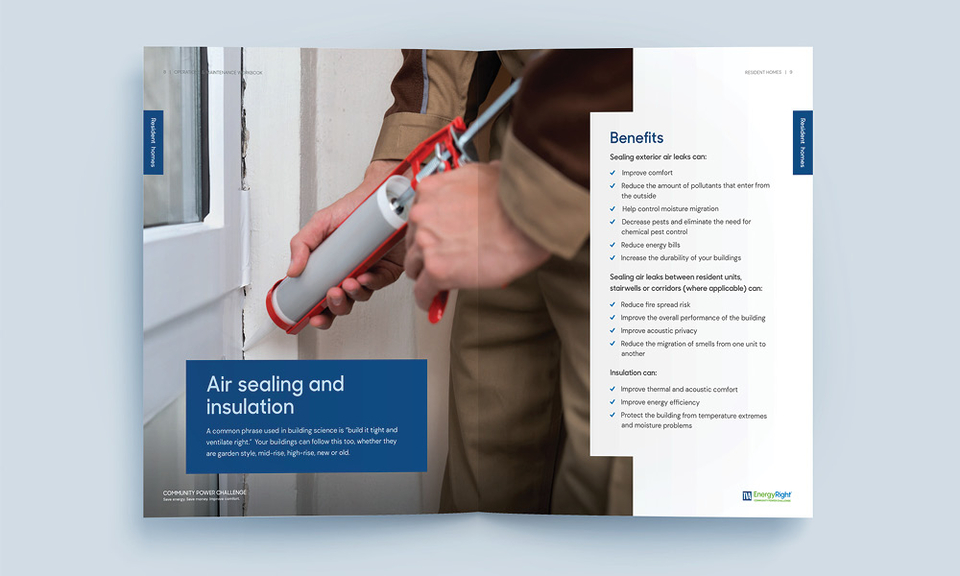 "The workshops thus far have been very informative; I think it's important to provide that education to people to give them access to lower their bills as much as possible.