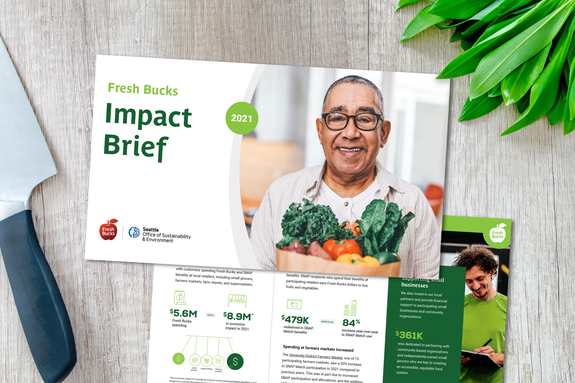 City of Seattle: Building Program Awareness
COLLATERAL, INFOGRAPHICS,
REPORTS
---
Seattle's Office of Sustainability and Environment's Fresh Bucks program helps low-income residents access fresh, healthy food. Over the past several years, we've collaborated with Fresh Bucks to develop communication materials that clearly define the program, report on progress made, and ensure that everyone understands the value it provides. In our first year working together, we designed a brand identity that included a color palette, icon and illustration style, photography style, and an overall layout design system. 
Our approach leveraged bright color blocking and photos to emulate the feeling derived from eating fresh fruits and vegetables, and paired infographics, photos, and testimonials together to ensure that people connected the impressive data points with their corresponding, real-life impacts.